Not long after our post on the soap box derby photos we had a very special visit from R.H. Jackson, the Columbia City Champion. His brother had seen posts about the images on social media and that's how he learned about our gallery. So, they decided to make a trip to come see the photos and had a special surprise for us.
We pulled up all the photos we had from the race and right away R.H. found himself in a few of them. Turns out that of the two images of cars actually racing down Hwy 31, both contain Jackson's winning racer. He was also in two where prizes are being handed out by James Finney. In one R.H. is winning "Best Upholstered Car", but that's not all he won. R.H. told us about how he won the race and became Columbia City Champion. Then he got to go compete in the national competition in Akron OH.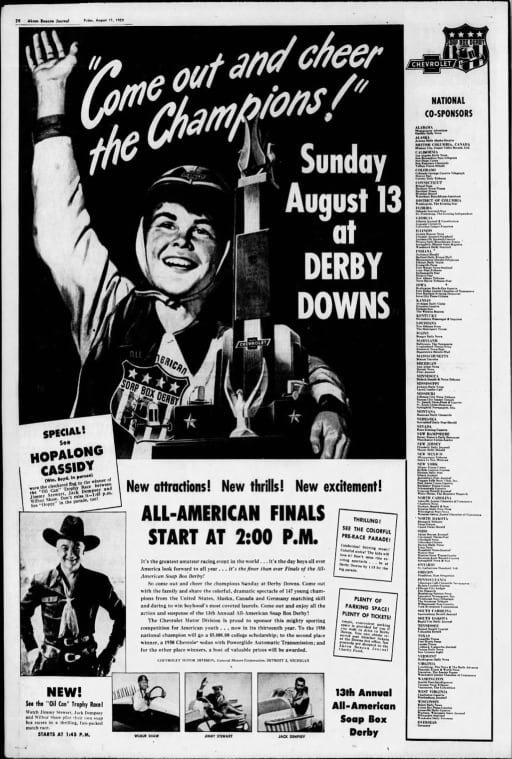 R.H. and his father travelled to Akron, OH for the 13th Annual All-American Soap Box Derby in mid August of 1950. The first prize was a college scholarship and the second prize was a brand new Chevy. Although Jackson did not win in Akron he was still honored as a champion at a dinner for all the city champs where the contestants received the official race jacket, buttons and prizes. Jimmy Stewart, Jack Dempsey, Wilbur Shaw and Hopalong Cassidy were all a part of the festivities as well. Jackson told us all about his experience taking his first trip out of Columbia.
R.H. Jackson brought his jersey, competition helmet and more to show us on his visit. We asked if we could take a picture of all the treasures, but Mr. Jackson told us he was giving all of these treasured memories as a gift. He said "I'm almost 85 years old and I did not know what I was going to do with them, but now I do". Well, of course we had to get a photo of Mr. Jackson with his jersey. We enjoyed the visit with R.H. Jackson, his brother Harold and Harold's wife too. We are honored to have been presented with such wonderful and fun items.
Come see our new Fall 2021 show and you can see the display of R.H. Jackson's Soap Box Derby memorabilia and a few images from the Columbia Soap Box Derby. Or you can view all of the photos on our online gallery.